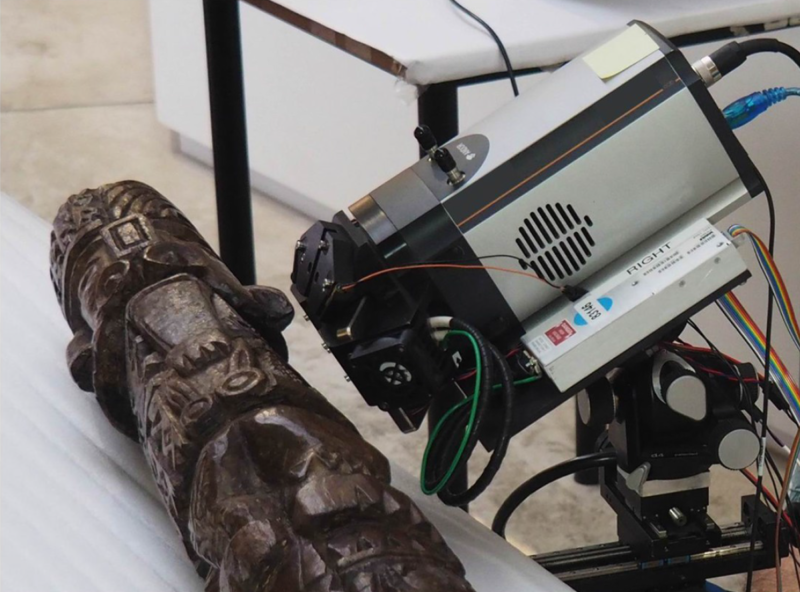 The idol of Pachacamac was already 700 years old when Spanish conquistadors arrived in Peru, according to radiocarbon dating of the wood. People journeyed from all over the Andes to consult the statue, believed to be an important oracle of the Inca gods, leaving behind offerings of gold, silver, and valuable fabrics. In 1533, Spanish conquistador Francisco Pizarro ordered his followers to knock the oracle from its pedestal in front of horrified onlookers. Centuries later, microscopes and X-ray fluorescence shed light on the lost colors of Inca religious life.
Long-lost colors
After roughly 1,300 years, the carvings on the surface of the oracle still survive in rich detail. Two people in elaborate clothing stand side by side in the top section; one wears a headdress of feathers, and the other wears a snake headdress. On the much taller middle segment, richly attired people mingle with jaguars, two-headed snakes, and an assortment of human-headed animals, interspersed with geometric designs. The base is blank and probably once fit into a hole in a pedestal. But as elaborate as the carvings are, they're missing something important: color.
Much of the color of the ancient world has been lost to us for centuries, and modern technologies are only starting to show us how vivid the past really was. Greek and Roman statues weren't sterile white; medieval cathedrals were full of color; and the animals, spirits, and people carved into the wood of the Pachacamac Idol once stood out in vivid red, white, and yellow.
Read 14 remaining paragraphs | Comments
https://arstechnica.com/?p=1645131
Source: Ars Technica
By: