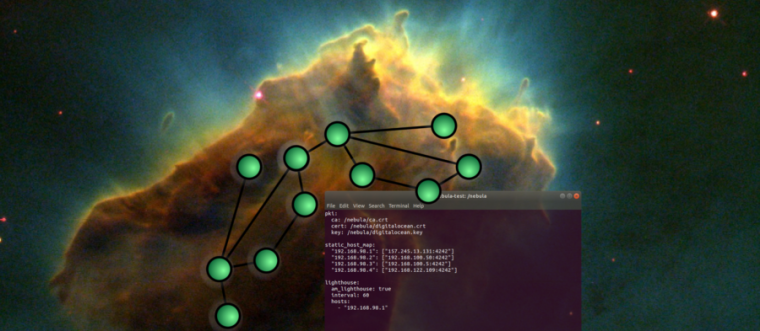 Last week, we covered the launch of Slack Engineering's open source mesh VPN system, Nebula. Today, we're going to dive a little deeper into how you can set up your own Nebula private mesh network—along with a little more detail about why you might (or might not) want to.
VPN mesh versus traditional VPNs
The biggest selling point of Nebula is that it's not "just" a VPN, it's a distributed VPN mesh. A conventional VPN is much simpler than a mesh and uses a simple star topology: all clients connect to a server, and any additional routing is done manually on top of that. All VPN traffic has to flow through that central server, whether it makes sense in the grander scheme of things or not.
In sharp contrast, a mesh network understands the layout of all its member nodes and routes packets between them intelligently. If node A is right next to node Z, the mesh won't arbitrarily route all of its traffic through node M in the middle—it'll just send them from A to Z directly, without middlemen or unnecessary overhead. We can examine the differences with a network flow diagram demonstrating patterns in a small virtual private network.
Read 31 remaining paragraphs | Comments
https://arstechnica.com/?p=1634723
Source: Ars Technica
By: